Virtual Talk Series - Stop Doing More. Do Differently: Simple, Uncommon Strategies to Increase Your Productivity and Fulfillment
09may1:00 pm2:00 pmVirtual Talk Series - Stop Doing More. Do Differently: Simple, Uncommon Strategies to Increase Your Productivity and Fulfillment
Event Details

Learn more together with the group on this Creative Women's Co. virtual event via our facebook group live video.

Virtual Talk Series | Stop Doing More. Do Differently: Simple, Uncommon Strategies to Increase Your Productivity and FulfillmentGuest speaker:

Carla Reeves, Lifestyle Coach carlareeves.com

Do you find yourself always at the mercy of time and feeling like there is never enough? You work hard implementing new techniques and strategies to be more effective, but find yourself stuck with the same pressure of an unending to-do list and limited time for the things that really matter? What if your approach has been upside down? What if it's not a time management problem, but a thinking problem? Join us and dive into a rich conversation as we explore the real problem with managing your time and discover the true solution to shifting your relationship with it so that you can feel productive AND fulfilled and keep it that way.

You Will Learn:

• Where you can stop doing more and instead DO DIFFERENT.

• The real reason why you never feel like you have enough time.

• How you can shift your relationship with time to get the most out of it.

Designed for: Entrepreneurs and professionals who feel like their work is running THEM, struggle to get everything done and know they could be more productive with their time.

Executives, CEOs, stay at home moms, and busy, driven professionals rely upon Lifestyle & Leadership Coach Carla Reeves to call out their blind spots, expand their perspective and create a more fulfilling way of showing up to their work and their lives. Highly driven professionals from PetSmart, Early Warning Systems, Isagenix, Drive Time, Origami Owl have come to know Carla Reeves as a trusted resource to overcome personal/professional barriers that stand in their way of performing and living at their fullest potential. Carla is described as "an invaluable resource", by some and "trusted friend and confidant" by others. No matter how they describe her, clients regularly welcome the benefits that flow from their work together. Most notably, clients experience a positive shift in their ability to navigate and enjoy their everyday life, positive career promotions/changes, improved personal relationships, and ability to make a bigger impact at work and home and adopt smarter ways to take care of themselves while living a productive, impactful, fulfilling life.


WANT TO BE OUR SPONSOR? See our opportunities for you here.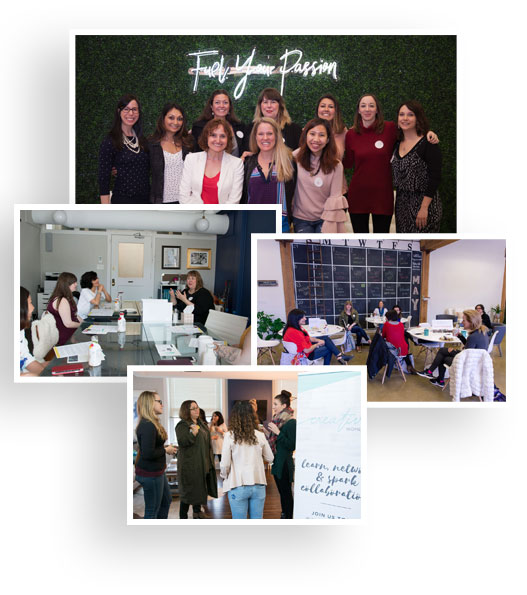 ---
JOIN US AS A MEMBER
Not a member yet? Sign up here.  

---
Creative Women's Co. is a series of intimate gatherings for creative women entrepreneurs to connect with each other on a personal level, learn together and spark collaborations. 

Building and fostering genuine relationships among creative women entrepreneurs can be challenging. At Creative Women's Co. we believe that it all started at a personal level connection. We value intimate networking events as a way for us to get to know each and everyone who attend the events. Our events are less like meeting up with random professionals but a gathering to see friends, learn together and create collaborations.

WEBSITE | FACEBOOK | INSTAGRAM | Request Access to Facebook Group



Time

(Thursday) 1:00 pm - 2:00 pm